GrandMa Badass
A downloadable game for Windows
News : Episode 2 Available NOW !

En France, on l'appelle "La mère Michel de la teucie"...EPISODE 1+Free Demo
HELP GRANDMA IN THIS CRAZY QUEST !

Point and click Game available in French, English, German, Italian, Dutch, Polish, Norwegian and Spanish

Un jeu inspiré par la comptine française de la Mère Michel qui a perdu son chat...mais elle ne devra pas que crier par la fenêtre cette fois, pour savoir qui le lui rendra...


HISTOIRE
GrandMa ne s'imaginait certainement pas devoir passer une journée aussi pourrie.
Et pourtant, elle avait si mal commencé !

Réveillée à 6 heures du mat par sa racaille de voisin dealer au téléphone, GrandMa a tenté de faire sa nuit complète...Mais en vain…

Réveillée au petit matin par Marius, son chat noir affamé, elle va commencer par déchanter et comprendre que sa journée ne va pas être des plus agréables…
Obligée d'affronter les dangers du Coronavirus et les aléas de la pauvreté, GrandMa va très vite se retrouver dans de sales histoires, où elle devra côtoyer la pègre et le grand banditisme de sa ville...pour retrouver son chat kidnappé en cette sale journée…
GrandMa bad day ? Non ! GrandMa Badass !

Oui, la Mère Michel a vraiment perdu son chat...et ce n'est pas le père Lustucru qui le lui rendra !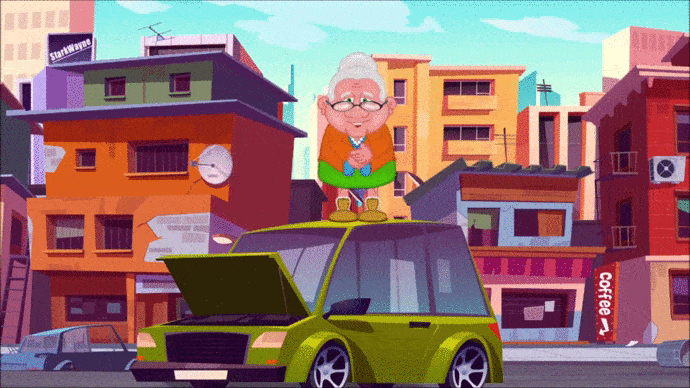 HISTORY
GrandMa certainly didn't imagine having to have such a lousy day. And yet she had started so badly!

Awakened at 6 o'clock in the morning by her fellow dealer neighbor on the phone, GrandMa tried to make her whole night ... But in vain ...

Woken up in the early morning by Marius, her hungry black cat, she will begin by disillusioned and understand that her day is not going to be the most pleasant ...

Forced to face the dangers of the Coronavirus and the vagaries of poverty, GrandMa will very quickly be find herself in dirty stories, where she will have to rub shoulders with the underworld and the organized crime of her city ... to find her cat kidnapped on this dirty day ...

GrandMa bad day? No ! GrandMa Badass!

THE OFFICIAL TRAILER !
BUNDLE 1 - PROLOGUE + EPISODE 1
Le Prologue (disponible gratuitement en démo) vous présente l'environnement du jeu, le personnage de GrandMa et son chat, et n'est que l'introduction à une aventure qui se construit au fil des quêtes.

L'épisode 1 vous fait rentrer un peu plus dans l'aventure et vous annonce entre 2 et 3 heures de jeu vraiment folles, où vous devrez enquêter sur la disparition de votre chat et rendre des services à de très mauvaises personnes pour avancer dans votre enquête...

Dans ce premier Bundle (Prologue+Episode 1), vous avez 6 succès à déverrouiller...
Y parviendrez-vous ?
Toutes les infos sur le jeu et les actualités sont sur www.adipson.com

BUNDLE 1 - PROLOGUE + EPISODE 1
The Prologue (available for free as a demo) introduces you to the game environment, the character of GrandMa and her cat, and is just the introduction to an adventure that is built over the quests.
Episode 1 takes you a little more into the adventure and announces you between 2 and 3 hours of really crazy play, where you will have to investigate the disappearance of your cat and render services to very bad people to advance in your investigation...
In this first Bundle (Prologue + Episode 1), you have 6 achievements to unlock ...
Will you do it?
All game info and news are on www.adipson.com

A game inspired by the French canteen of Mother Michel who lost her cat ... but she will not only have to cry out the window this time, to find out who will return it to her ...
EPISODE 2 - Piège de béton - Escape Rooms
(septembre 2021)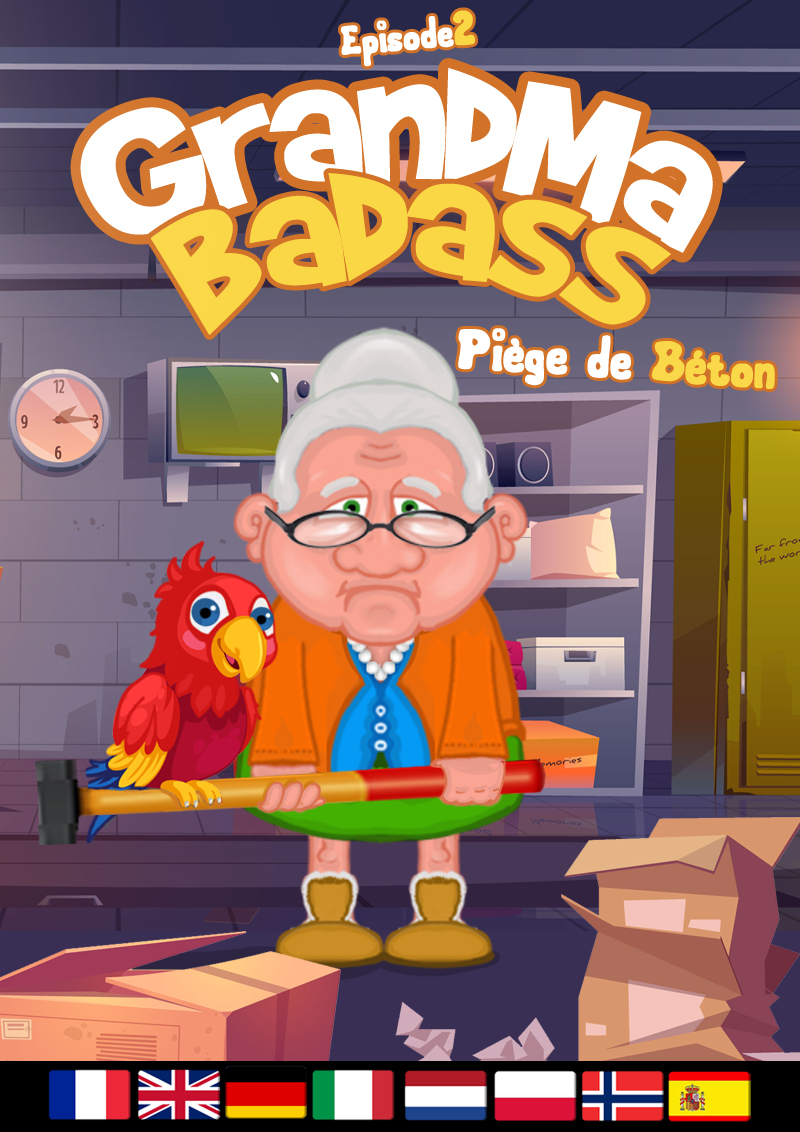 BUNDLE 2 - Episode 2
L'aventure de l'épisode 2, que vous pouvez lancer indépendamment de l'épisode 1, suit en fait l'histoire des aventures de GrandMa et reprend exactement là où se termine l'épisode 1.
Lorsque GrandMa débarque dans le sous-sol pour trouver le hacker sensé l'aider à fabriquer un faux passeport en urgence pour pouvoir partir en Russie à la recherche de Marius, sur la piste d'un trafic international de chapkas, elle ne s'imagine pas qu'elle va finir elle-même sous l'emprise de ce personnage qui semble être assez malveillant et pas très honnête dans toute cette histoire.
L'épisode 2 reprend donc exactement là où vous avez laissé Grandma à la fin de l'épisode 1... entre les griffes de ce mystérieux hacker.
Le jeu se transforme alors en escape Rooms, voyant notre mamie essayer de s'échapper d'un bunker infernal, pour en trouver la sortie et continuer son enquête...
Un second épisode qui brise les règles du point and click traditionnel d'enquête pour vous plonger dans une ambiance anxiogène, où la résolution d'un tas d'énigmes en tous genres sera votre seule porte de sortie de ce piège de béton...
Vous pouvez télécharger et jouer à l'épisode 2 sans être obligé de posséder l'épisode 1 et vice-versa.

BUNDLE 2 - Episode 2
The adventure of episode 2, which you can run independently of Episode 1, actually follows the story of GrandMa's adventures and picks up exactly where Episode 1 ends.
When GrandMa arrives in the basement to find the hacker supposed to help her make a false passport in an emergency so that she can go to Russia in search of Marius, on the trail of an international traffic in chapkas, she cannot imagine. not that she is going to end up herself under the sway of this character who seems to be quite malicious and not very honest in this whole thing.
Episode 2 therefore picks up exactly where you left Grandma at the end of episode 1 ... in the clutches of this mysterious hacker.
The game then turns into escape rooms, seeing our grandma trying to escape from an infernal bunker, to find the exit and continue her investigation ...
A second episode that breaks the rules of traditional point and click investigation to immerse you in an anxiety-provoking atmosphere, where solving a bunch of puzzles of all kinds will be your only way out of this concrete trap ...
You can download and play Episode 2 without having to own Episode 1 and vice versa.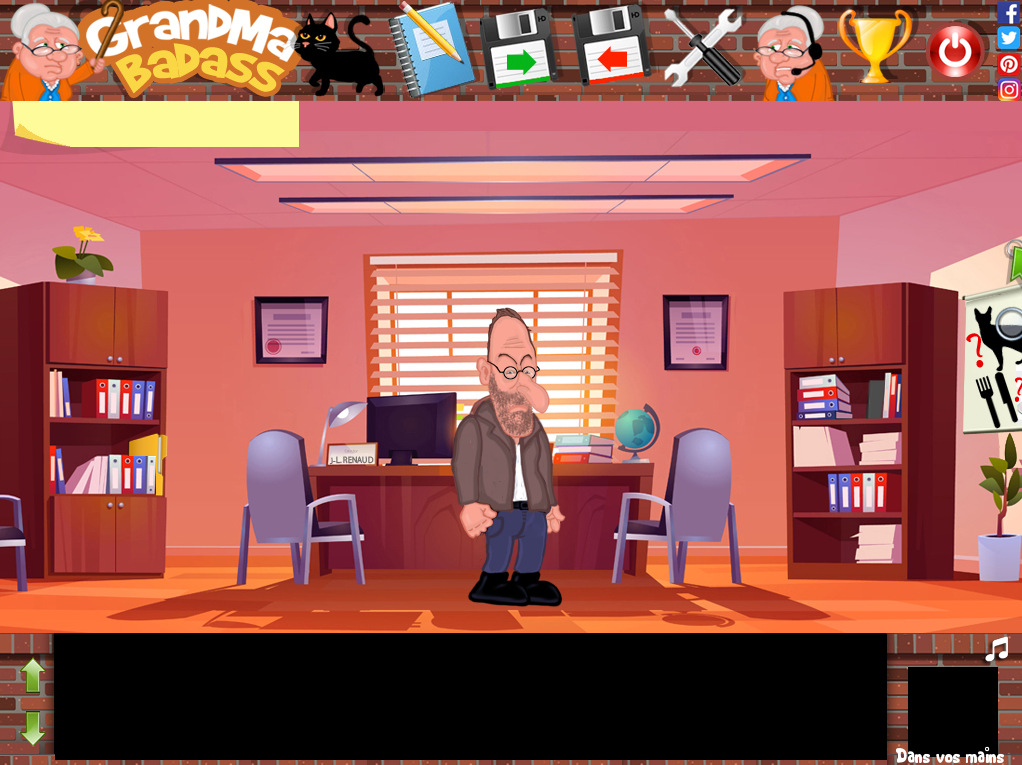 And now... enjoy the GrandMa Badass' Dance .... !!
____________________________________________________________
PC
configuration:
Minimal:
◦ Operating system: Windows XP or higher ◦ Processor: Pentium or higher ◦ RAM: 1 GB of memory ◦ Graphics: 1280 x 720 - 32 bits ◦ DirectX: Version 9.0 ◦ Disk space: 800 M° of free hard disk space
Recommended:
◦ Operating system: Windows 7 or higher ◦ Processor: 1 Gigahertz (GHz) or faster 32-bit (x86) or 64-bit (x64) processor ◦ RAM: 2 GB of memory ◦ Graphics: 1280 x 720 - 64 bits ◦ DirectX: Version 9.0 ◦ Disk space: 2 GB of free hard disk space
*** For an optimal game we advise you to play Native Game resolution (winsetup.exe file) 1024 x 768

*** Pour un jeu optimal nous vous conseillons de jouer en Native Game resolution (fichier winsetup.exe) 1024 x 768

Credits : background on this page and lot of scenes on the game are from PVP Studio

Purchase
In order to download this game you must purchase it at or above the minimum price of 3.99€ EUR. You will get access to the following files:
GrandMa Badass - épisode 1 - Confinement / lockdown
236 MB
GrandMa Badass - épisode 2 - Piège de Béton / Escape Rooms
373 MB
if you pay 4.00€ EUR or more
PACK GRANDMA BADASS - EPISODE 1+EPISODE 2
634 MB
if you pay 6.38€ EUR or more